The trick to creating a PowerPoint presentation quickly is no secret at all. Tons of people have figured it out. You probably know one. You might be one. You know – the death by PowerPoint people.
Slide after slide of black text on a white background – it may be the fastest way to create a presentation, but it's also the most mind-numbing to sit through. Most of us aren't graphic designers and don't want to spend forever putting together a presentation. But we still want something that looks professional.
With that in mind, we put together a list of tips and tricks to help you save time when creating a PowerPoint presentation.
1. Use the Slide Master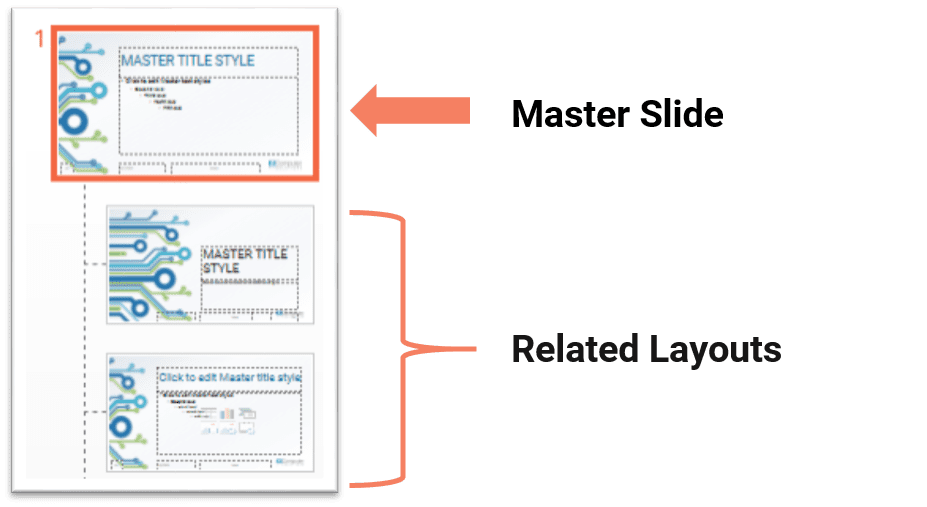 Have you ever found yourself going through a presentation one slide at a time to change fonts, or add your logo? You can save yourself enormous amounts of time by using the Slide Master.
The Slide Master lets you set universal styles, layouts and background graphics for your entire presentation. Use it to adjust fonts, colors, add logos to every page, or create and edit design themes.
To access it, go to the View tab on your ribbon and click the Slide Master button.

On the left-hand side of your screen, you'll see a list of all the slide templates in your presentation. The top thumbnail is your master slide. Underneath that are each of your slide layouts.

When you make changes to the master slide, they will automatically transfer to the related layouts. You can also edit each layout individually.
So, for example, if you want to add your company logo to the bottom of every slide, just insert it on the master slide, and it will automatically show up across your presentation. Then you can move or change how it appears on individual layouts like your Title layout. The great thing about doing this in the Slide Master is that once you return to normal editing view, the logos will be locked in place so you don't accidentally move or delete them.
2. Make Bulleted Lists a Breeze
Love them or hate them, bullet points happen in PowerPoint. Frequently. Here are a couple of ways to make bulleted lists easier to both create and understand.
Whenever you're typing a bulleted list, use the Tab key to go down one bullet level. Use Shift + Tab to go back up one level. And if your bullets are just getting messed up an not cooperating, don't be afraid to select the entire list and toggle the Bullets button off and back on again to reset everything to a top-level bullet.
If you have a lot of bullets on one page, consider adding animation so points appear one at a time. This will help your audience focus and avoid getting overwhelmed by too many bullets on the screen. How many is too many? Most people can't remember more than seven, but in general, the fewer the better.
3. Easily Align Objects
Sometimes PowerPoint can be finicky when it comes to getting text and objects to line up on the screen. Use the Align tool to make your job easier.
First, select the objects you want to align. The Format tab should appear. From there, click the Align drop-down button and select the option you want. You can choose to align objects to each other, or to the slide itself. Note, you can also distribute multiple items, which will put equal spacing in between each object.

4. Duplicate Objects Instantly
When copy/paste just isn't fast enough…
While holding down the Ctrl key, simply click and drag on the object to instantly duplicate it.
You can also hold Ctrl + Shift to duplicate the object and move it in a straight line.
5. Copy Formatting with Shortcuts
Since PowerPoint is so visual, you often have multiple pieces of text or objects that you want to look similar.
You may already know that you can use the Format Painter button to copy the look of one object to another. To do this faster, try using shortcuts.
Select the object that's formatted the way you want it and press Ctrl + Shift + C.
Then select the object you want to paste the formatting to and press Ctrl + Shift + V
Voilà! Instant formatting!
6. Format Multiple Pictures at Once
If you have multiple pictures on a slide and you aren't sure how to arrange them, here's a quick tip to make them look great in a snap.
Select multiple pictures by holding down Shift or Ctrl and clicking on each one
Go to the Format tab under Picture Tools on your ribbon
Click the Picture Format button and select a SmartArt layout for your pictures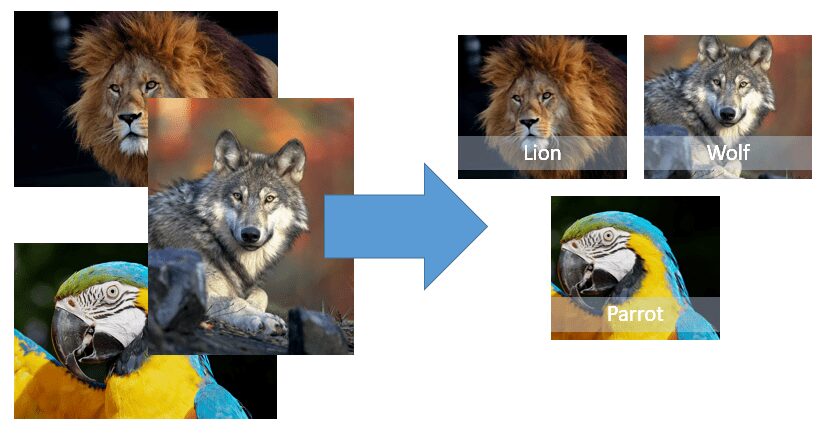 PowerPoint will instantly resize and format your pictures so they are all consistent. Plus, you can easily add text or captions to go along with them.

7. Use SmartArt to Make Bullets More Interesting
Struggling with long pages full of boring bulleted lists? Try making them more visual using SmartArt.
Highlight your list of bullet points, and on the Home tab, look for the Convert to SmartArt button. From the drop-down, select the layout you want, or click on More SmartArt Graphics to see the full list of options.
SmartArt adds color and visual interest to plain bullets. Some graphics even allow you to insert picture thumbnails next to your bullets.

8. Create Custom Icons with the Merge Shapes tool
Here's a little-known hack you can use to easily create custom shapes or punch text out from an object.
Select multiple shapes or text boxes that you'd like to modify. Go to the Format tab under Drawing Tools. Click the Merge Shapes drop-down button and select from the following options:
Union – joins multiple shapes into a single shape
Combine – joins the shapes, but creates empty space wherever they overlapped
Fragment – breaks the shapes into separate pieces based on where they overlapped
Intersect – removes everything except the overlapping section of the shapes
Subtract – removes from the first-selected shape anything covered by other shapes
9. Hide Your Hyperlinks
During a presentation, you may want to link to external sources or media, but you don't always want bright blue hyperlink text in the middle of your slide.
One option is to turn an object into a hyperlink. Simply select any object, go to the Insert tab, and click the Hyperlink button. Then just enter a URL in the Address box and click OK. When you're in presentation mode, you'll be able to click on the object to open the link.
If you want to hyperlink text, but you don't want to change the formatting, you can create an invisible box as a hyperlink. On the Insert tab, use the Shapes button to create a rectangle. Select it, and under the Format tab, set the Shape Fill to No Fill and the Shape Outline to No Outline. Then create a hyperlink in the same way as above, and place the invisible box over the text you want to use as a link.
10. Enhance Your Presentation with Fade Transitions
Make your entire presentation feel a little more professional in 5 seconds flat with this hack.
In the preview pane on the left-hand side of your screen, select the thumbnails for all of your slides. Go to the Transitions tab, and select the Fade transition.

Setting custom intro animations for each slide is time-consuming and often distracting. This understated animation makes transitions smoother and more appealing without going overboard.
11. Embed Your Fonts
Here's a familiar situation: your PowerPoint looks perfect on your computer, but as soon as you try to present it someplace else, your text messed up and nothing looks right. Fonts are often the culprits because other people might not have the same typefaces installed that you do.
To avoid this problem, you can embed your fonts within your presentation, so your text will display the same way on every computer. Go to File –> Options. Look for Save options on the left-hand menu, and click the checkbox to "Embed fonts in the file."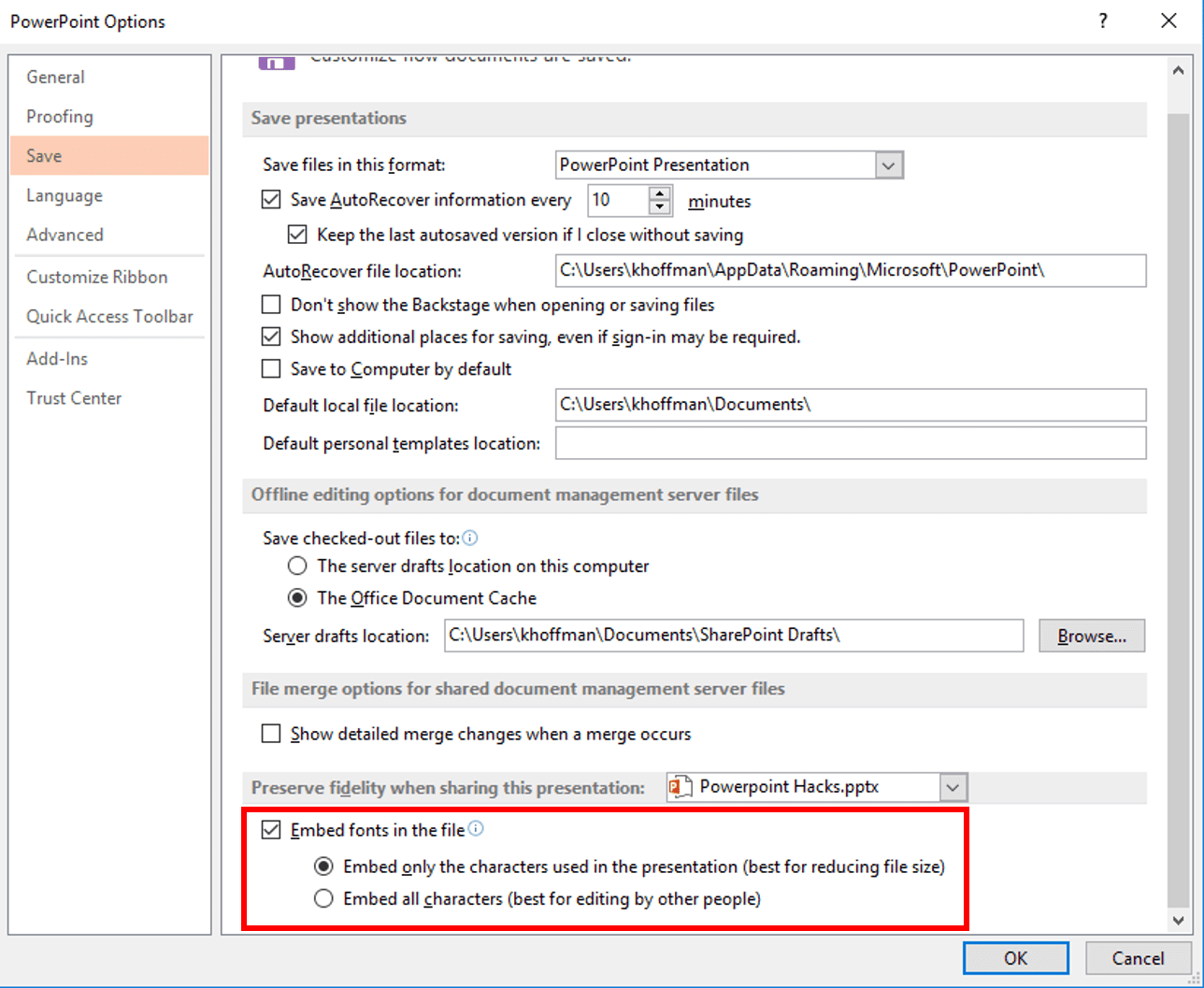 12. Simplify Presenting With Shortcuts
Presenting can be nerve-wracking enough without having to worry about navigating your presentation. Make presentation day a breeze with these helpful keyboard shortcuts.
F5 – Start the presentation from the beginning
Shift + F5 – Start the presentation from the current slide
While you're presenting, here are some useful shortcuts to help keep your audience focused:
B – turn the whole screen black
W – turn the whole screen white
Slide # + Enter – move to any slide
Turning the screen black or white are great tricks to get your audience focused back on you if you find their attention wandering. And it's always great to be able to navigate quickly to other slides, especially during a Q&A session where your audience may reference earlier parts of your presentation.
13. Use Presenter Mode
Last but not least, here's the ultimate hack for speakers: Presenter Mode.
If you're not familiar, Presenter Mode allows you to view the speaker notes for your presentation on your own monitor (like a laptop), while displaying your clean slides to your audience. It also shows you the next slide in the deck and keeps a running timer, so you can easily stay on track throughout your presentation.
To enable Presenter mode, go to the Slide Show tab, and click the checkbox for Use Presenter View.

Try It Yourself!

Ready to put these PowerPoint hacks into practice? We put together a PowerPoint about PowerPoint to remind you of all these tricks and let you try it yourself.

Looking for more Microsoft Office hacks? Check out our other articles for time-saving tips:
8 Time-Saving Hacks for Microsoft Outlook
9 Time-Saving Hacks for Microsoft Word
9 Time-Saving Hacks for Microsoft Excel