Meet Our IT Technicians
If your search for an IT technician near me led you here and you're a small or medium-sized business in Lancaster, Harrisburg, York, Lebanon, or Reading, PA, we'd love to introduce you to our tech team!
Tom Malesic
President
Tom founded EZSolution in 1997 and has grown the company from a one-man enterprise into a multi-faceted organization that includes two distinct divisions (EZMarketing and EZComputer Solutions) and over 40 employees. A Penn State graduate, Tom has always been fascinated with the business of business. He loves helping clients solve problems. Along the way, Tom has written two books (What Your Web Developer Never Tells You and What Your Computer Guy Never Tells You) designed to help business owners grow their businesses through website development and by leveraging their technology.
When he's not at the office, Tom enjoys spending time with his wife, Jennifer and son, Ryan. They like to play any game with a ball out in the front yard, play their trumpets as loud as possible and watch Penn State football games.
Brad Roth
Service Manager
Brad joined our technical staff as an IT technician in 2007 with over 11 years of experience in the IT field. A Microsoft Certified Professional, Brad brings extensive expertise and a wealth of experience to our growing client list. In July 2010 Brad began a new position as Manager of our Computer Networking Division. Brad is the first point of contact for technical questions, issues and scheduling.
In addition to his career in the IT field, Brad is also a volunteer firefighter and is a local Emergency Management Coordinator. Brad also loves to spend time with his wife Donna, two daughters and their husbands, and his two dogs.
Lee Voegele
Network Engineer
Lee joined EZComputer's technical department in 2010 with over 20 years of IT experience. Prior to his position at EZComputer Solutions, Lee served as an IT technician and consultant working with a variety of businesses in many industries to meet their networking needs and goals. He also served as a small business network administrator for 7 years before becoming a consultant.
When he's not helping clients with their networking needs, Lee enjoys strategy games, baking, reading and writing speculative fiction. He has also put together a home woodworking shop.
Phil Hodges
Technician
Phil is a graduate of Lancaster Bible College. He joined EZComputer Solutions in 2010 after running his own business as an IT technician for 15 months. Before that he was an IT administrator for 9 years at a small manufacturing company. Phil has earned multiple Microsoft certifications as well as Dell, Kaseya, Datto, and EnGenius certifications.
Phil is married to his wife Stephanie and has two grown children. He enjoys playing guitar and serving his community through his church, motorcycling, and vacationing to new places with his wife.
Jim Fisher
Technician
Jim came to EZComputer Solutions in the fall of 2013 as an IT technician. Jim met his first computer on the campus of Franklin and Marshall College when he was in high school. It was an IBM and he got to program it using toggle switches, the punch cards were reserved for the college students. His first real introduction to computers came when he joined the Air Force in 1975 where he served for 15 years. In his 38 years of work with technology he has seen a lot of change in the field, especially in the ability to work and support computers remotely.
Before coming to EZComputer Solutions, Jim spent many years working for LGH at the downtown campus. He really appreciates the staff at EZComputer Solutions, the challenges in his job and EZComputer Solutions's great customers.
Jim is a native of Lancaster and still lives on the west side of Lancaster. One of his hobbies is collecting recipes especially Indian and Oriental. His best friend growing up was Italian and Jim still would choose a good 7 course Italian meal as his favorite food.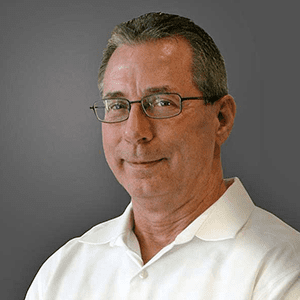 Greg Barninger
Technician
Greg joined EZComputer in January of 2019 as a network technician. He currently handles service desk support. His favorite part of the job is working with the management team and interacting with his co-workers.
Prior to his work at EZComputer, Greg owned his own IT shop where he specialized in food service POS (point of sale) systems and network/application systems for real estate companies. Before striking out on his own, Greg spent 3 years as a Lead IT Technician, overseeing 25 techs to build and deploy servers and workstations for the US Navy and Marine Corp. Greg also spent 9 years as a systems administrator and automated packaging systems support technician where he performed application testing and support for Source Interlink Companies.
Greg is a Dell EMC Certified Hardware Technician and holds Operating System certifications for Microsoft Windows Server 2003 – 2016 as well as VMware vSphere, ESXi and VCenter Server certifications.
In his spare time, Greg is a sound and recording technician for local bands and musicians. He has worked on the sound crew for the Longs Park Free Summer Concert Series for the past 19 years. Playing drums since the age of eight, Greg has played with numerous bands and musicians in Pennsylvania, Maryland, and Delaware. He currently plays the drums in 2 local bands. He also enjoys skiing.