Every single minute, over 149,000 emails are rushing toward inboxes around the world. Keeping up with that flood of messages can take up way too much time, so we found a few tips and tricks that can help! Here are some Microsoft Outlook hacks to help you stay organized, focus on what's important, and minimize interruptions so you get more done each day.

Looking for more Microsoft Office Hacks? Check out our other articles:
9 Time-Saving Microsoft Word Hacks
9 Time-Saving Microsoft Excel Hacks
13 Time-Saving Hacks for Better (and Prettier) Powerpoints)
Outlook Hack #1 – Delay Email Delivery
Imagine you're working late in the evening writing an email, but you don't want it to reach your recipient until the next morning. Rather than risking forgetting it the next day, just set a delayed delivery.
When you're writing an email, go to the Options tab, and click the Delay Delivery button. Then simply set the specific date and time you'd like to send the message.
Outlook Hack #2 – Use the BCC Field
If you're sending an email to a large group of external recipients, you don't want to breach anyone's privacy by including all those email addresses in the visible To field. Instead, blind carbon copy (Bcc) your recipients so everyone receives the email, but they don't see your whole email list.
To do this, go to the Options tab in a new email, and click the Bcc button. The Bcc field will appear at the top of your email and all new emails moving forward.
Outlook Hack #3 – Make Your Emails Stand Out with Color-Coding
When you're facing an overflowing inbox, it can be hard to separate out the messages that are truly important. That's where Outlook's conditional formatting function comes it. Use it to automatically color-code messages in your inbox, so you can see important emails instantly.
You can color-code emails based on a variety of criteria including:
Emails from a particular email address (like your boss's!)
Emails that contain certain words in the subject line (to highlight a monthly report or other recurring emails with the same subject line each time)
Emails that contain certain keywords (such as the name of an important project)
Emails where you are the only person listed in the TO field (to help focus on emails that are directed specifically to you vs. a larger group where you are just CC'd)
You can also mix and match multiple criteria.
To set up conditional formatting, just follow these steps:
Click the View tab then choose View Settings – Conditional Formatting (or Automatic Formatting)
Click the Add button to add a new condition, and give it a descriptive name.
Click the Font button, then click the Color drop-down to choose the color you'd like to appear when the condition is true. Click OK.
Now click the Condition button to tell Outlook when to apply the color change you just set up. You will see a screen like the one shown below where you can choose the criteria to set. After you've made your selections, click OK.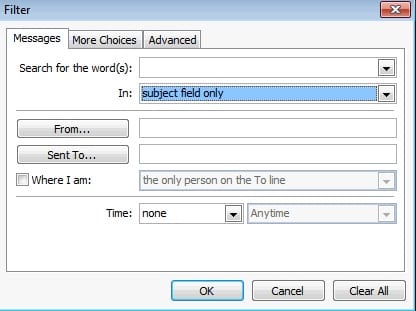 In the example below, you'll see emails color-coded in red and blue, while the rest of the emails are shown in the standard black color.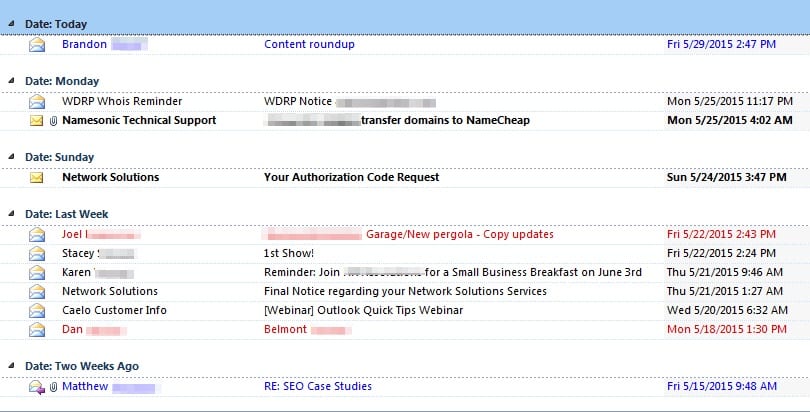 Note that the color change will only appear when messages are in the inbox. When you move an email to another folder or delete it, the message will revert to standard formatting.
Outlook Hack #4 – Narrow Your Searches
Most people know that you can use Outlook's built-in search function to look for an email you've sent or received. But searches are often frustrating because they return too many results. Here are some additional commands you use to narrow your search and produce more accurate results.
from: name
Typing the word "from" followed by a colon and either a name or an email address will help you find emails from a certain sender.
hasattachment: yes
Ever find yourself searching your email for a specific document, or picture you know someone sent? Use this search term to see only those messages with attachments.
received: timeframe
Outlook naturally breaks up your inbox by timeframe, but this search parameter can help you wade through a large subfolder. You can use a variety of timeframes like last week, last month, this year, yesterday, etc.
Keyword Searches
Most people know that you can use a keyword search to find messages containing certain words. Outlook uses standard search rules, so you can enclose your keyword in quotes to get an exact match, and use operators like AND, OR, and NOT to refine your search. For example, if you did a search for Project AND "Final draft" you'd only get search results that included both those terms, where the words final and draft appeared together in the result.
Note that any of these search parameters can be combined. So, for example, if you wanted to look only for messages from your co-worker Nick containing an attached monthly report, you might do a search like this: report from: Nick hasattachment: yes
These are just a few of the many ways you can improve your searches. For a more in-depth list of search terms, take a look at this list from Microsoft.
Outlook Hack #5 – Save Search Folders
Perhaps you find yourself searching for the same types of emails again and again. Instead of waiting for Outlook to find them every single time, create a search folder to make it easy and fast to access important messages.
Find the Folder tab in Outlook and click the New Search Folder Button
Select from the pre-existing search options or select Create a Custom Search Folder at the bottom of the list
For a custom folder, click the Choose button and then the Criteria button to see all the options for search criteria. This will open the same dialogue box as the conditional formatting options above.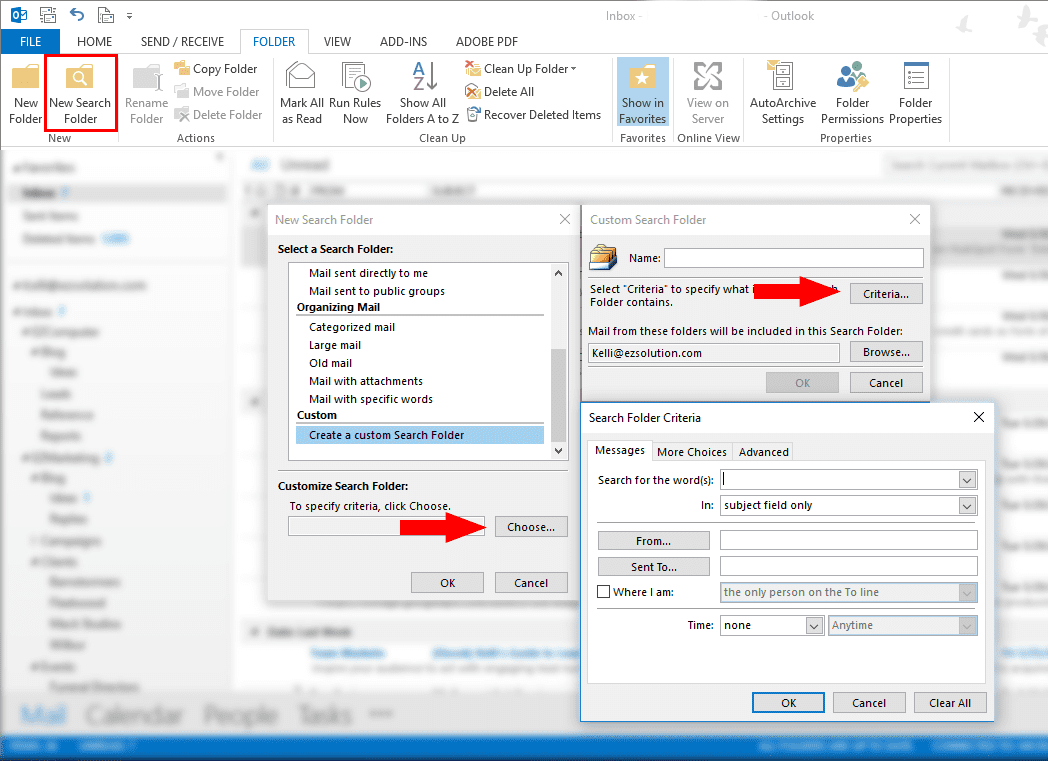 Outlook Hack # 6 – Turn Off Desktop Alerts
Eliminating interruptions is one of the best ways to increase your productivity. Have you ever been in the middle of an important meeting or project and suddenly found yourself distracted by that little pop-up about a new email in your inbox? Here's how you can control Outlook alerts for new messages and eliminate those small interruptions.
Click the File tab in Outlook and then click Options
Click Mail, then scroll down to the section called Message Arrival
Uncheck the Display a Desktop Alert check box to turn off the alert boxes.
Click OK

Bask in your new-found freedom from email alerts! Your email will be waiting for you when you're ready to see it!
Outlook Hack #7 – Use Rules to Auto-Organize
Even with search and color coding, maybe you get so many emails that they still get lost in your inbox. You can auto-organize incoming messages with Rules, so they start in sorted folders before you even read them.
For example, maybe you have a specific project that you're working on. You can create a rule to automatically move any messages containing the project name to a separate Project folder. Or, maybe you want to separate out emails that don't require your immediate attention. You can create a rule to move messages where your name is CC'd (rather than in the To box) to a different folder.
Also, if you've turned off desktop alerts, but you're not quite basking in the freedom, you can use rules to receive alerts for specific types of messages. That way, you're only interrupted by emails that are really important.
To manage your rules:
In the Home tab, click the Rules button
From the drop-down, select Manage Rules and Alerts
Click New Rule
Use the Rules Wizard to select a pre-built template, or create a rule from scratch
Click Finish to apply the rule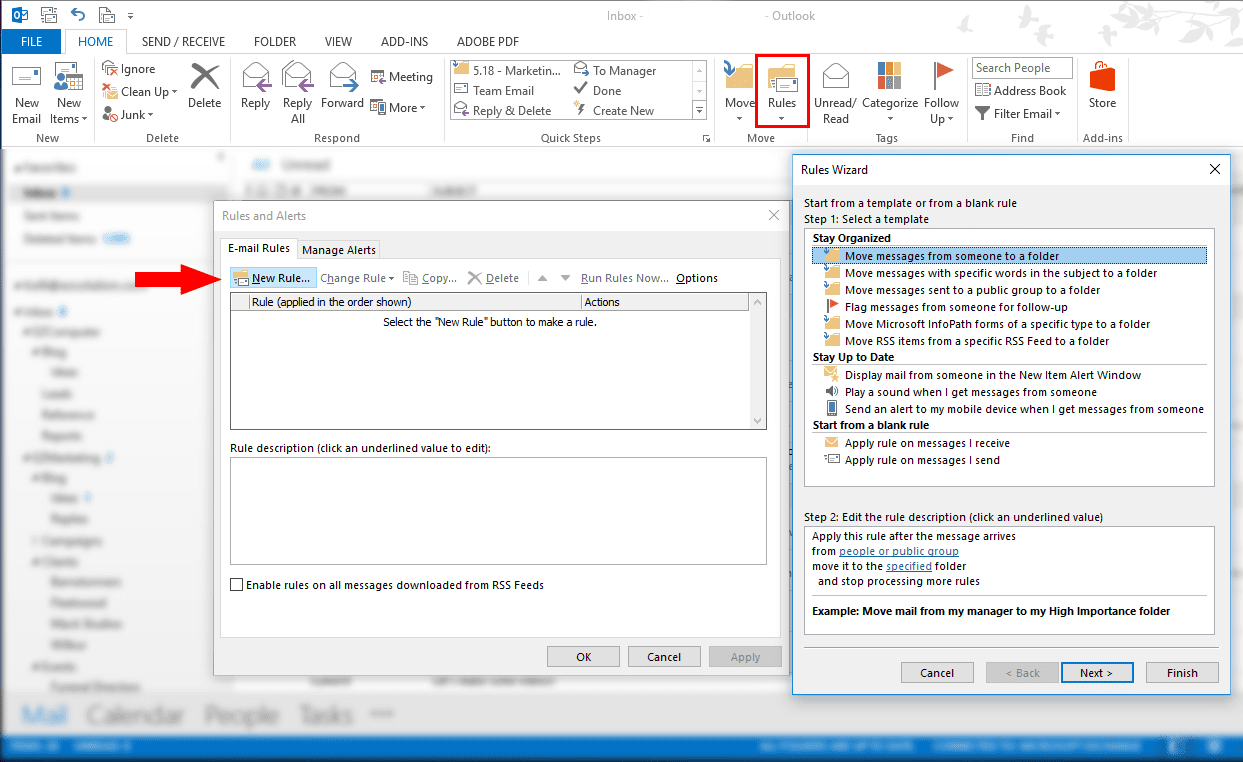 Outlook Hack #8 – Use AutoComplete for Common Phrases
If you find yourself typing the same phrases over and over in your emails, automating the process could save you a ton of time. (This tip works in Microsoft Word too!) Thanks to the Quick Parts function, you can save common phrases or even whole paragraphs of text and access them instantly.
Let's say you type the phrase "Please let me know if you have any questions." at the end of many of your daily emails. Outlook can insert this phrase automatically with a simple keystroke, using Quick Parts
Setting Up Quick Parts:
While you are composing an email message, highlight the text you want to re-use.
On the Insert tab, click the Quick Parts drop-down button and choose Auto Text
At the bottom of the box that comes up, click Save Selection to AutoText Gallery.
In the dialogue box that appears, you can name your Quick Part, which will dictate what you need to type to get your saved text to appear. Generally, the first couple words of the phrase work best.
Click OK


Now, the fun begins. Go back to your email and begin typing the phrase you just saved – in this case, "Please let me know if you have any questions." In the screenshot below, you'll see that while we were typing the word "please," our saved text popped up as a suggestion. We can then insert the whole sentence by simply pressing Enter. If you don't want to use the suggested snippet, just keep typing and it will disappear.



You can also access the phrase by clicking on the Quick Parts drop-down and selecting it from the list.
So there you have it! Eight great Outlook hacks that may just help you find things faster, stay focused, and improve your productivity.
Looking for more email productivity tips? Check out our recent blog post 6 Tips for Better Email Productivity.