Unlock the Power of Cloud Services for Your Small Business
Tired of dealing with slow, outdated technology that's holding your business back? Harness the power of cloud computing to work smarter, not harder, from anywhere. With cloud solutions including data backup, VoIP phones, and Microsoft 365, you can streamline your operations, increase productivity, and ensure your data is secure.

Secure Your Data
Cloud platforms make it easy to safely access, back up, and restore your data.
Save Money
Less maintenance and physical hardware mean cost savings for you!
Work From Anywhere
Access the data, tools, and communications you need from any device.
How Cloud Solutions Make Business Easier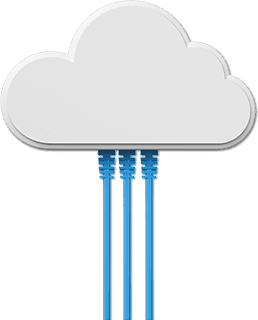 Cloud computing may seem complicated, but life without the cloud is probably making work harder than you realize. Does any of this sound familiar?
You saved a document on your laptop at home, and now you don't have it at the office.
Your team is working on a proposal, but 5 different versions are floating around.
You're on the road, and you can't access your voicemail to call back an important client.
You got a virus that is locking you out of critical files, and you have no way to get them back.
The cloud is simply a term for all the data, software, and services that run on the internet, rather than your local computer.
Cloud services make work easier by giving you a way to store data and access applications from anywhere with an internet connection. That means you can access your documents, emails, and more on any device, from any location, at any time.
We can help you get started with cloud services including data backup, VoIP phones, and Microsoft 365 that enable you to work smarter, not harder, and focus on growing your business.
Our Cloud Computing Services

Data Backup Solutions
Don't wait for technology to break and wreak havoc on your business. As a managed services provider (MSP), we proactively manage your network so we can catch little issues before they become big problems.
VoIP Phone Services
Stay connected with crystal-clear call quality and a range of features not available with traditional landlines. All this at a fraction of the cost–why pay more for less?
Microsoft 365
Create, collaborate, and communicate with ease. Microsoft 365 includes business-grade email and a suite of tools to help your team work seamlessly and efficiently.

How to Protect Your Data with Datto Cloud Backup