If you're like 99% of businesses, you use things like emails, documents, and spreadsheets to get work done every day.
Microsoft tools like Word, Excel, and Outlook are the bread-and-butter for most of us.
How can you make those tools even more productive for your business? That's the challenge that Microsoft 365 is built to address.
What is Microsoft 365?
Microsoft 365 is a cloud-based subscription service that combines email, Office products, and productivity tools all in one package. It's designed to help your team work better from anywhere.
Microsoft 365 includes:
All Office products like Word, Excel, and PowerPoint
Professional business email with shared calendars
Teams, which is a video conferencing and chat tool
SharePoint and OneDrive, for cloud-based file storage and sharing
Security tools that help keep your files safe
Why Microsoft 365?
So you might be thinking: "I've already got email and Word, and they work just fine. What's so great about Microsoft 365?" Here are a few huge benefits:
Professional business email – I know a lot of people who are still using generic gmail or yahoo addresses for their business. If you want to look professional, you should have a professional email address with your website name.
Work from anywhere – because it's cloud-based, Microsoft 365 can give you access to your all your emails, apps, and files from anywhere and any device. That's key if you have a remote workforce.
Real-time collaboration – Microsoft 365 helps you eliminate a lot of back-and-forth. Employees can work on documents simultaneously, and you can use Teams to call, chat, or video conference instantly.
Office Products – Like it or not, Microsoft is moving to a subscription model. If you want to keep using products like Word, you're going to need to switch to Microsoft 365 eventually
Advanced Security – Microsoft 365 and add-ons like Office Protect offer robust security features that help protect you from spam, viruses, hackers, and more.
Microsoft 365 in Action
Still not sure if Microsoft 365 is for you? Here are some of my favorite features of Microsoft 365 in action:
Shared Outlook Calendar
First, there's my shared Outlook calendar, which is how I manage my entire schedule. If you're used to Outlook this may not seem like a big deal, but if you don't have a shared calendar, it's a game-changer.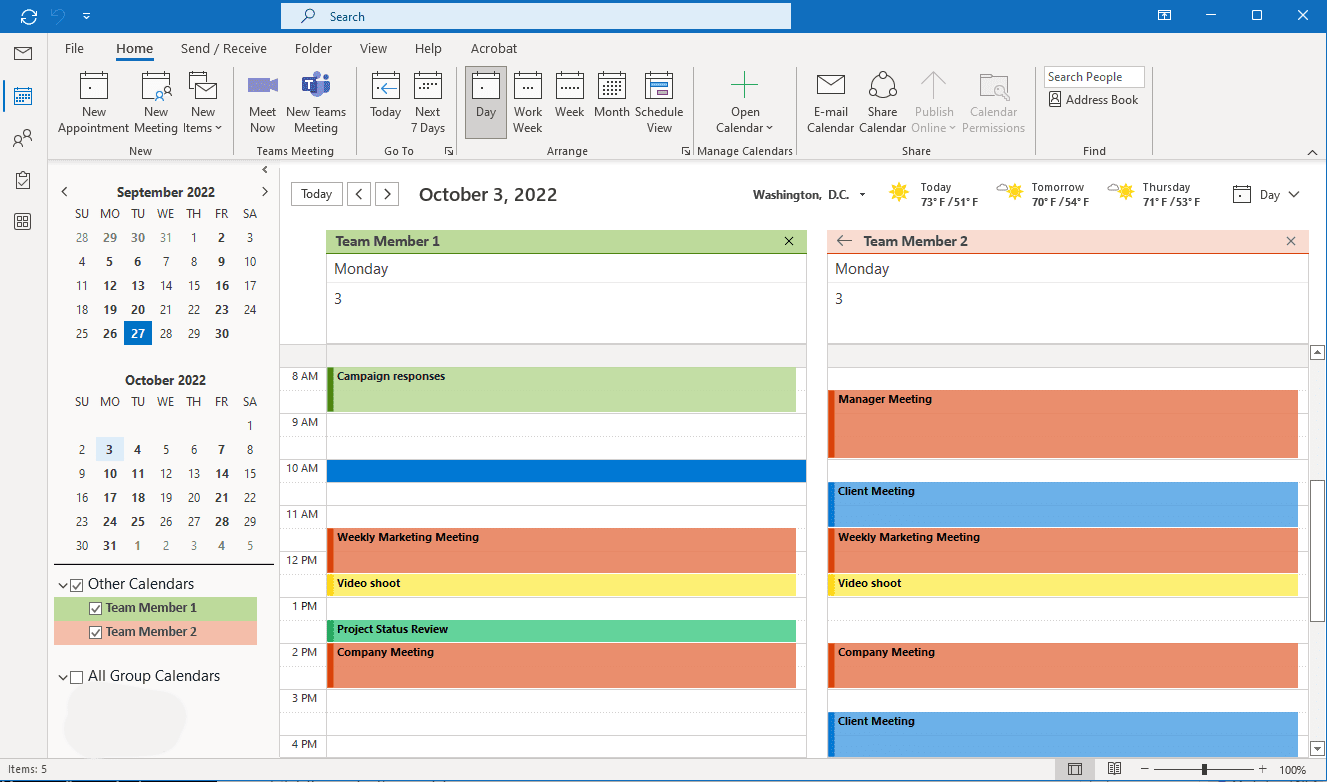 I can see when my employees are available, AND my team can see when I'm free, so they can schedule appointments for me, which saves me a TON of time.
Teams
Teams is the communication tool you didn't realize you were missing until you have it. I thought Zoom was good enough, but Teams is so much better.
I can video chat any team member at the click of a button, or call someone into a meeting I'm already in. So rather than sending around emails and waiting for responses, or scheduling a meeting, I can just pull in whatever team members I need to get answers right away.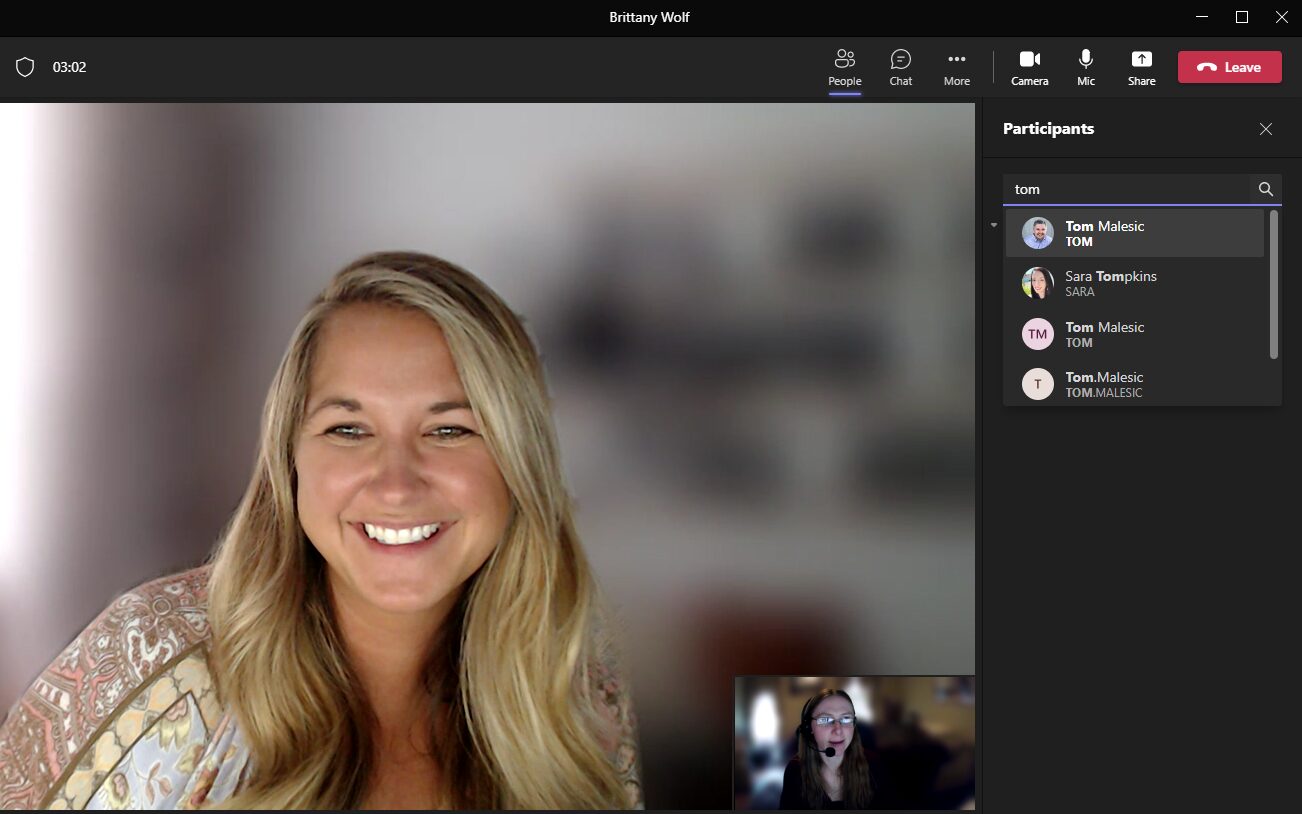 SharePoint
One of the best things about having all our files on SharePoint is that multiple people can be in a file at once.
So when I'm working with my team on a project or going over a weekly report, I can actually see changes other people are making in real time.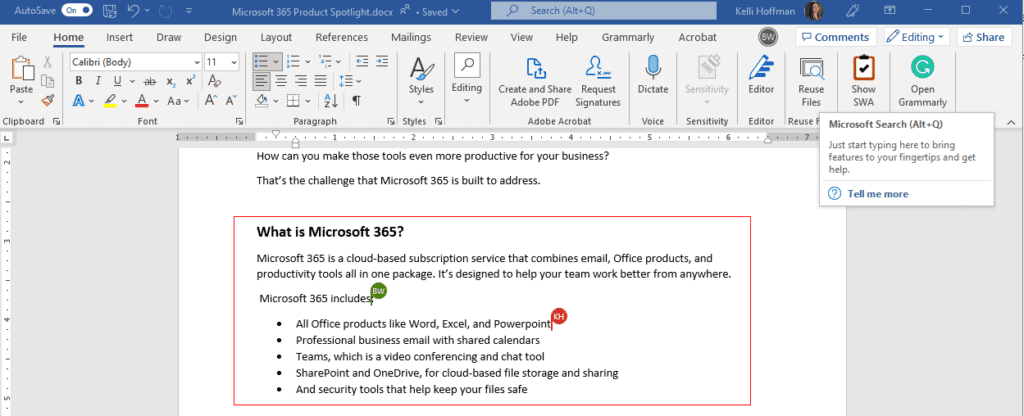 Get Started With Microsoft 365
Microsoft 365 can help your team work and collaborate better. We can help you get set up with an affordable plan for your business. If you're interested, contact us today for a free quote.