We have recently been thinking a lot about remote work and ways to make this easier for our small business clients here at EZComputer Solutions in Lancaster, PA. If your business is like ours, the COVID-19 pandemic has forced you to embrace new ways of working, and you may have allowed some or all of your workforce to work from home (WFH) during 2020. Perhaps you're still partially or fully remote.
You've likely picked up some new tech tools and tricks to get through this challenging time—Zoom, Skype, shared Google Docs, and more. How are these solutions working out? Some probably better than others, right?
For instance, you may have already been won over by Microsoft Office 365, but you're still experiencing frustrations with an outdated phone business phone system.
If you're not yet on VoIP (voice over internet protocol) phones, we can almost guarantee that you and your employees are frustrated!
What if we told you that VoIP will make you love business calling again? (Well, maybe not love, but appreciate as a useful tool!) Today's post offers six big benefits of making the switch to VoIP phones.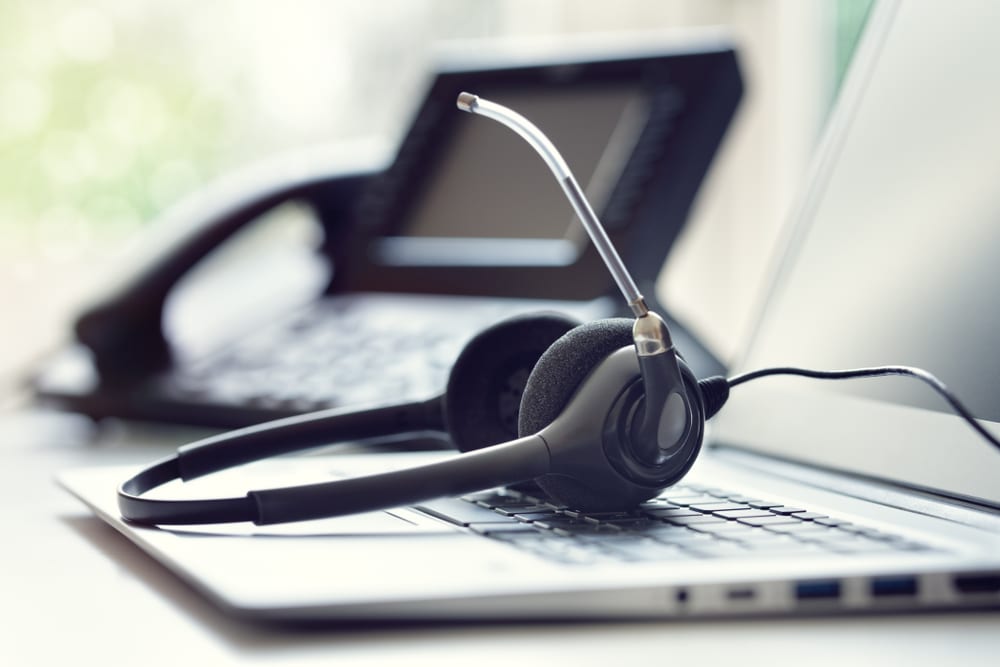 Quick Recap: What is VoIP?
As we covered in a recent blog post, VoIP is an advanced technology for transmitting phone calls as data over the Internet instead of through a wired connection facilitated by your phone company.
VoIP phone service offers significant advantages for businesses of all sizes, including substantial cost savings, better mobility, and versatility versus a landline-based system. And it's incredibly flexible for smaller businesses with workers who may not all be in the same physical location.
Our Favorite VoIP Advantages that You'll Appreciate for WFH
1. Better Call Quality—We Promise!
One of the excuses we often hear from business owners about why they're hesitant to switch to VoIP is that they "read somewhere" that the call quality was poor. And yes, when VoIP first appeared back in the 1990s, this was true.
However, infrastructure improvements in the last thirty years have erased call quality problems with VoIP, and now landline phones often provide worse connections. Many of America's largest traditional telecom companies—such as AT&T and Verizon—have announced phase-out plans for landline services, and they have stopped putting money into maintaining those legacy systems.
2. More Efficient Communications Both In and Out of the Office
As a single unified communication platform, VoIP increases communication efficiency for businesses. All communication modes—from voice calls, faxes, and email to video and web conferencing—can be utilized using a single software application.
This software is fully accessible and controllable right from any user's desktop computer. It allows for easy call screening, call forwarding, and even setting up temporary "do not disturb" periods, so calls don't disrupt important meetings or "deep work" sessions.
3. Allows Phone-Based Customer Support to Seamlessly Go Remote
If your business relies heavily on phone-based customer support, you've likely experienced some frustrations throughout the recent pandemic with social distancing protocols. After all, your phone-based employees were probably still reporting to a central location—like your call center—to do their jobs.
And maybe you're out of physical space.
We have some good news that will save you on space costs even after social distancing is a distant memory!
Because VoIP integrates with mobile phones and features an app-based setup, these systems can make it so your employees with phone-heavy job responsibilities can work from anywhere. With VoIP, your employees can make calls from your office phone number using their mobile phones or personal computers. VoIP can help you cut the cord!
4. App-Based Availability Monitoring Makes Managing Employees a Snap
As we already mentioned, the app-based nature of VoIP systems makes it easy for each user to control their calling preferences, availability, and more. However, from a management perspective, VoIP offers a bird's eye view of what team members are up to—at least in terms of whether or not they're on a call at any given moment.
As a manager, a simple look into the phone system app will make it painless to see if an employee you need to talk with is available to take your call—or if they're helping a customer or client.
5. More Call Data and High Tech Convenience
Using a VoIP phone system instead of a landline provides instant statistics and analytical data on things like average phone call length, where people are calling from, and other useful data to help your business work remotely more efficiently.
Additionally, one popular feature of VoIP systems is the ability to have voicemails sent to text messages and email—and we're not just talking about auto-transcription of messages that has become a feature on our mobile phones. Recordings of your voicemails can be sent directly to your email inbox, which means you can easily forward them to other team members, too.
The Biggest Benefit of VoIP is One That Business Owners Love Most
So far, the VoIP advantages we've shared are ones that make employees happier and your day-to-day experience as a small business owner or manager that much easier. But VoIP isn't just more flexible and user-friendly. It's more cost-effective to use, too—even if you're making a switch from a relatively complex traditional phone system.
6. VoIP is Budget-Friendly—Pay Only for What You Need
With VoIP, you don't need to host (and pay for) separate data and voice communications networks. Voice over IP allows you to make and receive calls through the same data network you use for your internet service. As we've covered above, your VoIP phones are easy to manage right from the handset or your computer desktop and typically don't require much extra training to learn to use.
Yes, you will likely need to invest in new phones when you switch to VoIP, but because these systems integrate with your employees' existing mobile devices, you may not need as many individual handset units as you first assume. A qualified IT services provider specializing in VoIP technology—like us here at EZComputer Solutions—can help you determine your equipment needs (and do all of the purchasing for you).
Ready to Upgrade Your Central PA Small Business's Phone System to VoIP?
Here in the Lancaster, York, and Harrisburg region, EZComputer Solutions is a favorite managed IT services partner providing unrivaled support for small businesses with remote and in-office employees. Not only can we recommend the best VoIP communication solutions, but we can install and maintain your new small business phone system—so it just works.
Get in touch with us today to learn more about transitioning to VoIP phone service for your small business. And don't forget to download our Work From Home Gameplan ebook to make your employees' remote work experience better than you ever imagined!