The customer journey is a long but rewarding process, so when your e-commerce website prospects finally become customers and reach your checkout page, you want to make sure things go smoothly. You've done a lot to get your visitors to the checkout page, from providing high-resolution images and accurate product descriptions to a responsive design and smooth customer experience, but there's one critical conversion element every e-commerce site needs.
Security. Specifically, customer security.

Most online stores require the same kind of information, all of which fall under either the personal or financial category. This data includes things like credit card numbers, full names, physical mailing addresses, email addresses, and more. The information a customer is required to provide to conclude an online transaction can be devastating if lost, which is what has happened to many online retail stores who have had their security breached by malware and hackers.
According to the Global Fraud Attack Index for 2016 Q2, "there were 27 attacks for every 1,000 transactions conducted in 2015 Q4, which is 11% higher than reported in 2015 Q3 and a 215% increase from 2015 Q1." Between Q4 of 2105 and Q1 of 2016, the attack rate was higher than 4X for digital goods and doubled for luxury goods.
Whether or not customer information has been stolen or simply lost, your security and recovery plan should be able to address malicious hackers and fraud. Providing top-notch security for your e-commerce site is the best way to give your customers peace of mind, retain their business, and grow yourself as a respected, trustworthy online store.
Proactive security is necessary for the prolonged protection of your website and your customer transactions. We've detailed five actionable tips below to securing your site against fraud and hackers.
1. Choose the right e-commerce website platform
The best e-commerce platforms are often those that utilize an advanced object-oriented programming language. They offer substantially higher levels of security and reliability, due in part to the administrative panel that's virtually inaccessible to third parties. This means you'll avoid the public facing servers, which are more prone to attacks. When browsing for the best platform, make sure that it has additional layers of security or built-in security protocols.
2. Install an SSL Certificate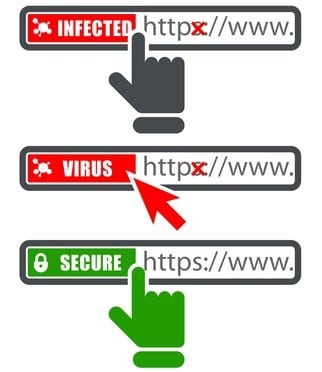 Secure Sockets Layer (SSL) certification authentication encrypts information exchanged between a web server and a browser. This encryption makes it difficult for would-be hackers to read the data being shared between you and your users, and it's even advertised in the URL bar as seen below.

This change in the application protocol (the HTTP part of the web address) makes it clear to customers that the information sent between their web browser and your server is secured. Besides showing an 'S' at the end of HTTP, there will also be a green bar and/or a padlock next to the URL. An SSL certificate can be indispensable for putting the end-user at ease and enhancing the security of any transaction they may generate.
3. Use a third-party payment processor to handle payments and customer information
Payment processors such as authorize.net allow merchants to process their payments through a secure third-party platform. Electronic payments with debt, credit, and bankcards are susceptible to abuse and fraud by malicious users, so it's critical to have a qualified payment processor who offers a secure network architecture for handling transactions and sensitive customer information. This gives customers peace of mind knowing their payments are secure and that if any of their data is stored, it's kept on a secure server.
A good quality processor can actually make it very simple for merchants to process charges, void transactions, or perform refunds without needing to store sensitive customer payment data on their end, which keeps them PCI-compliant.
4. Ensure that your e-commerce website is PCI compliant
Touching on the previous recommendation about being judicious when it comes to what kind of customer information you're keeping and storing, there are actually rules in place to ensure that customer information is protected. Failing to secure this sensitive financial and personal information can result in heavy penalties for the e-commerce site. Also, choosing to store data such as credit or debit card numbers could be in violation of PCI-compliant practices and put your customer's information in unnecessary danger.
Payment Card Industry Data Security Standard (PCI DSS) can be obtained by using an e-commerce platform hosted on a secure network, using cardholder data protection, practicing safe and secure information storage and processing, up-to-date virus and malware protection software, and regularly monitoring site activity for suspicious transactions. The whole point of being PCI compliant is to offer your customers the greatest sense of security when they're using your website.
5. Require stronger customer passwords
Set stricter requirements for user passwords. Asking customers to use tougher passwords can provide an important layer of security to their information and transactions, so it's important that they choose longer passwords, use capital and lowercase letters, characters, numbers, and random configurations to make guessing the password difficult. You'll undoubtedly have customers who want to use a simple or short password, so you may have to push them to adopt better password practices if they want to keep their data secure.
Enhancing the security of your e-commerce website is a multi-layered approach, from the platform you use and the addition of security protocols to encouraging better end-user practices, such as stronger passwords. Online stores face the same risks as any digital enterprise, including data breaches, hacks, and attacks.
Staying vigilant with security and developing an e-commerce website that puts the protection of its end-user data ahead of everything else can provide a strong defense against hackers and fraud attempts. Online retailers aren't immune to the myriad data breaches occurring all over the world on a daily basis, but they protect themselves all the same and give their customers the confidence to continue shopping online.