Imagine what would happen if all your business data files were suddenly gone… no accounting data, no customer records, no payroll information, nothing.
You'd have a lot of unhappy customers and unpaid employees.
You wouldn't last long without your data, which is why every business needs a reliable data backup solution.
Reliable Data Backup with Datto
At EZComputer Solutions, we use Datto, an industry-leading cloud backup provider.
Datto automatically backs up your data with advanced encryption, so you know your files are safe and secure.
That way, when a data disaster strikes–whether it's a power outage, fire, hacker, or something worse–you can rest easy knowing you can be back up and running within minutes.
Benefits of Datto Cloud Continuity
Datto is an all-in-one Business Continuity and Disaster Recovery (BCDR) solution. It's a fancy way of saying that Datto doesn't just back up your files. It ensures that your business can continue to operate smoothly and recover quickly in the face of a data loss incident.
Here are a few ways Datto goes above and beyond your typical backup solution:
It's cloud-based
Many businesses still rely on hard drives and tape backups which will ALL fail eventually. The advantages of modern cloud backups vs. on-site backups generally make cloud solutions the way to go for most businesses.
With a cloud-based backup solution, you don't have to maintain your own hardware or remember to switch out tapes or drives. Many businesses also love cloud storage because it's easy to access files remotely. Overall, cloud backup solutions usually offer greater reliability, accessibility, and security–often for a lower cost than a traditional on-site backup.
It provides image-based backup
Other backup solutions merely back up your files and folders. But if your whole server goes down, it can be a mess to restore everything and reinstall your programs. Datto takes a "picture" of your machine so that if something happens, it can restore your system exactly as it was, within minutes–not hours or days.
To imagine how it works, think of your computer as a jigsaw puzzle. All the pieces are your files and folders. If the puzzle gets knocked over, other backup programs will make sure all the pieces get back on the table. But you'll have to redo the work to fit the pieces back together again. Datto takes a snapshot of the puzzle so it can put every piece back in exactly the right place, giving you a completed picture, not a jumble of pieces.
Automatic pause and resume
Computers and laptops on your network get moved and powered off all the time, which can interfere with backups.
Datto is smart enough to pause when a computer goes offline and resume as soon as it's connected again. It performs integrity checks to validate every backup and provide alerts if there are any issues. This takes the guesswork out, so you always get a reliable backup.
Datto Backup Solutions from an IT Provider You Can Trust
Beyond the backup solution itself, you want a reliable IT services provider like EZComputer Solutions to manage your backups. Why? Our experienced technicians monitor your backups every day to ensure everything is working properly and we're proactively addressing any issues.
Here's how we use Datto to ensure your backups are there when you need them:
We monitor your backups
From a centralized dashboard, we can monitor all your servers and devices, check the status of your backups, keep an eye on backup size and capacity, and see any alerts that need to be investigated.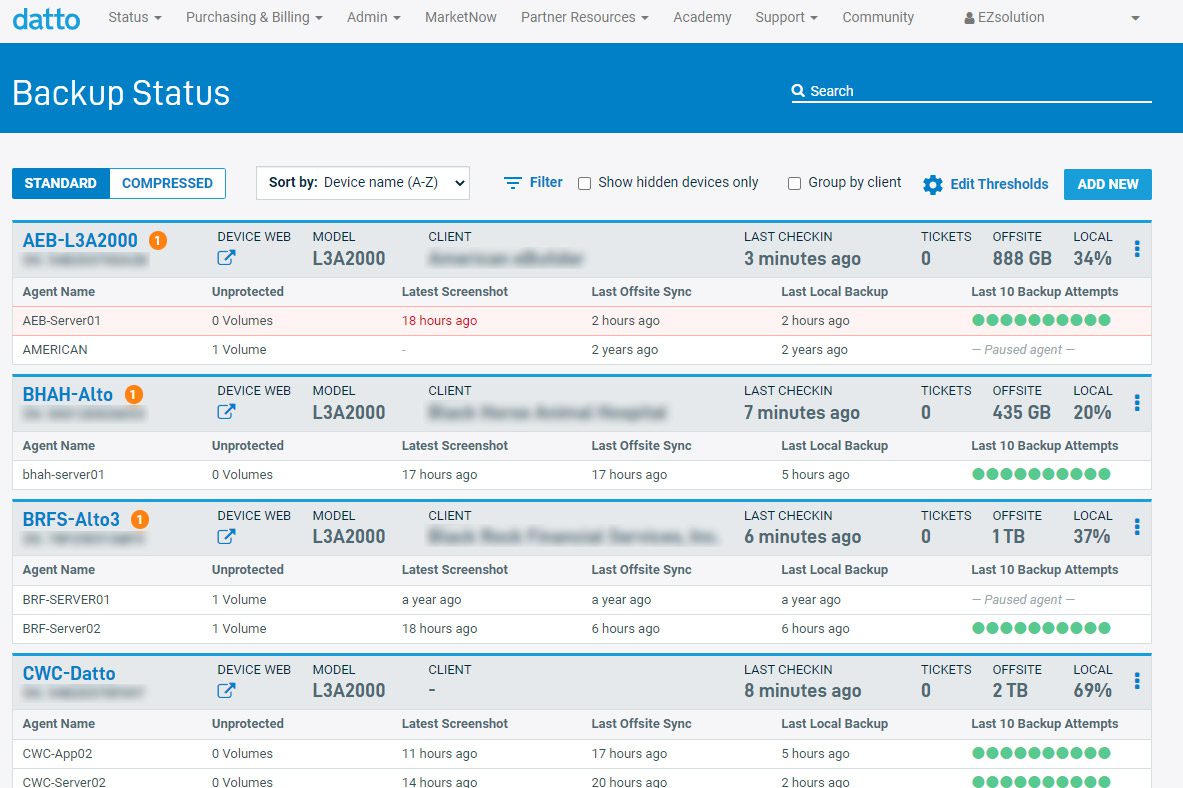 We verify that backups are working
We can view details of any of your backups to double-check that they are correct and consistent. We can adjust the frequency of your backups to meet your needs–whether it's daily, hourly, or even every 10 minutes.
We fix issues
Datto provides screenshot verification to ensure your backups are successful. When there's an error, we proactively resolve the issue on the server or workstation. Then, we have Datto take a new screenshot to confirm the problem is resolved.
Don't fall victim to a data disaster. If you want to protect your business, contact us today about getting started with Datto cloud backup solutions for your business.