Managed IT Services have existed for years. However, many businesses and organizations have relied solely on in-house IT teams to manage their technology. According to research from CompTIA, that trend has is changing as more businesses recognize the value of outsourced IT firms. Over two-thirds of the companies surveyed have subcontracted IT support during the last 12 months. These IT specialists are able to assist with a wide variety of technical services such as:
Monitoring networks
Backup and recovery
Email hosting
Data storage and CRM applications
Maintaining HIPAA compliance
If you're a business owner or administrator, you may want to consider harnessing the power of a managed services provider (MSP) to maximize your organization's success. Consider the following 6 benefits of using managed IT services.
1. Decrease Employee Downtime
No business owner wants to see employees wandering around the lunch room because an Internet failure or IT issue is preventing them from working. Downtime is a serious productivity-killer. According to a survey of 200 companies as reported by Information Week, IT issues cost $265 Billion in lost revenue. On average, each company lost $150,000 annually, simply due to IT downtime issues. That's money most businesses can't afford to spend.
When you work with an MSP, they can monitor your network 24/7/365. So when there is a problem, they know immediately and can fix it quickly, before you have significant downtime. You'll be happy, even if your employees miss the extra-long walks to the break room every time their computers crash.
Even better, managed IT services companies don't just wait for your system to break to fix it. They perform regular, proactive maintenance so you don't have issues in the first place. Just like your own health, prevention is the best medicine for business technology.
2. Simplify Your Business Management
Using managed IT services lets you focus on what's truly important: your business. Not server crashes or email issues. A knowledgeable IT provider can assist with email and web hosting, data storage, server, and network maintenance and a wide variety of other technical work. With the peace of mind that someone is in control of your network, you can focus your core business.
Furthermore, if you have in-house IT staff, they are now free to tackle new projects and initiatives that can improve your business operations. They don't need to be bogged down each day managing IT issues and putting out fires. When you and your employees aren't distracted by day-to-day IT maintenance, your business management is simplified and you are one step further on the road to success.
3. Expand Your Expertise and Capacity
Working with an established MSP gives you access to the expertise of a larger team. Many businesses rely on a small in-house staff or individual consultants. Regardless of how well-trained they are, they lack the same breadth of knowledge and experience that a larger team can provide. A good MSP will have highly trained, qualified staff who are up-to-date with Microsoft Certifications and other credentials.
A larger staff can also provide greater flexibility and responsiveness. With a team monitoring your network 24/7, there's someone available to help at any time of day. Plus if you have a big project, you have the flexibility to leverage outsource help as needed, without having to add permanent in-house staff.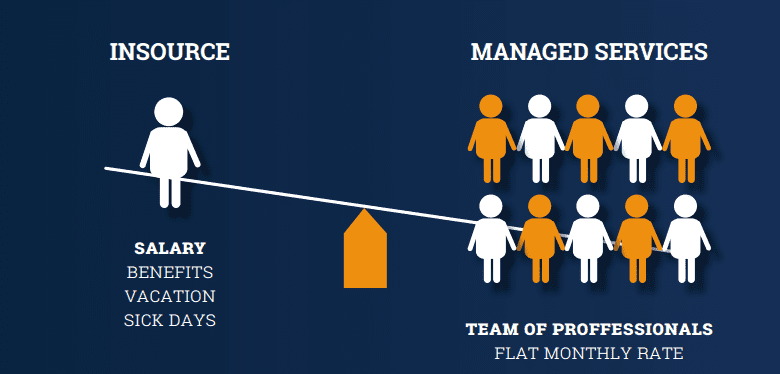 4. Streamline Your IT Budget
IT costs can be highly unpredictable. Systems can fail and computers can break at any time, resulting in sudden, unexpected costs that ruin your budget. Meanwhile, internal staff can be expensive to hire and train.
In addition to avoiding the hassle of in-house HR costs, most MSPs have fixed, monthly rates for their IT support services. Regular maintenance and repairs are built into the contract, so you don't have unexpected service costs popping up. They'll also help you plan for future upgrades so you can invest wisely in new technology, rather than facing surprise capital expenditures.
5. Maintain Compliance
The marketplace is constantly evolving and as a company administrator, you may find yourself completely in the dark when it comes to understanding various regulations and changing compliances. Particularly if you're in the medical industry, it's vital to have a comprehensive understanding of the Health Insurance Portability and Accountability Act (HIPAA). Many other industries have different rules and regulations for your IT systems. Don't get lost in the shuffle. Work with a managed services firm who can assist your organization in maintaining compliance.
6. Secure Your Business
From personnel files to financial data to customer records, every company has sensitive data they need to protect. Unfortunately, there are more threats to your business than ever from hackers and other cybercriminals. Not to mention good, old-fashioned hardware failure, human error, and natural disasters. As a business owner, you likely don't have the time or technical knowledge to constantly monitor and protect your business from these threats. That's where you'd benefit from utilizing managed IT services professionals.
These service consultants conduct reviews of your systems, network and various technologies to constantly watch for any security threats. They work to prevent risks to your business and manage recovery in the event of data loss or a security breach. Your IT professional will tailor a security plan that is specific to your business needs, depending on the following:
Where sensitive data is stored
Who has access to it
Types of devices, systems, and networks.
Are Managed IT Services Right for You?
Make a thorough review of your current business situation to decide whether or not managed IT services are right for your needs. You will benefit from decreasing employee downtime and saving money. You'll simplify your business management, giving yourself peace of mind. You'll gain access to a flexible team of experts. Streamlining your IT budget will help you to better plan for any unexpected surprises in your general business budget. Managed services can help you maintain HIPAA compliance and also protect your network from data loss and cybersecurity threats.